The YCD-6535 (06) heat shrink packaging machine of Beijing Yongchuang Company is an automatic shrink packaging machine developed for the domestic beverage purified water market. It has a unique multi-combination and multi-bottle packaging model and is very suitable for domestic beverage companies. The need for comprehensive packaging of products. Its characteristics are as follows:
1. While satisfying specialized production, it can be flexibly adjusted to realize multiple uses of one machine. Can pack 350ml, 500ml, 1.25l and other beverages of different capacities, but also can be packaged into different middle packages, such as 12 bottles/bag, 20 bottles/bag, 24 bottles/bag and other combinations.
2. The handling of the conveyor structure is excellent. The bottle separator and the special anti-fall bottle structure ensure that it can be directly connected to the customer's production line to achieve the requirements of flow operations.
3. The use of visual operation control panel is more conducive to the operator's control of the equipment.
4. The unique hot air circulation cooling structure can quickly cool the package and facilitate handling, avoiding the dislocation between the bottle and the bottle caused by insufficient cooling.



Source: Packaging Container
Uv Coated Pet Film /Uv Treated Pet Film
Property: anti UV and anti aging
Specification: 12mic-200mic other spec can be customized
surface : UV coating
Application: suitable for lamination for protective surface etc
Item

Unit

Index

Test condition

Thickness tolerance

%

≤3

GB/T6682-2001

Transmittance

%

≥75

GB/T 2410-2008

Tensile strength

MD

Mpa

≥170

GB/T 1040.3

TD

Mpa

≥170

Elongation at

Break

MD

%

≥90

GB/T 1040.3

TD

≥90

Heat shrinkage (150℃30min)

MD

%

≤1.4

GB/T 16958-2008

TD

≤0.2

Haze

%

1.7

GB/T 2410-2008

Electricity intensity

75um

V/um

≥105

GB/T 12802.2-2004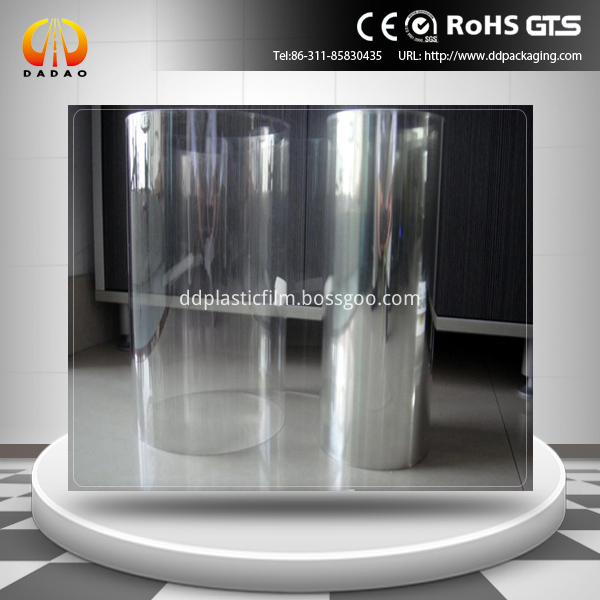 Uv Treated Polyester Film,Coated Pet Film,Uv Coated Pet Film,Uv Treated Pet Film
Shijiazhuang dadao Packaging materials Co , http://www.ddplasticfilm.com